We spend about eight months a year looking forward to the college football season because there is always so much to see with the Ohio State Buckeyes and so many possibilities. 
You have new stars taking off, old stars leaving a legacy, and transfers, transfers, transfers!
It's the best thing going, even in its current shifting-sand-like state.
For Ohio State, this could be a very special season, which means there is plenty to get excited about. Over the next week until the start of Game Week against Notre Dame, I'll be sharing 100 things for you to look forward to this year, along with the reasons why.
So let's keep going (in no particular order).
---
Previous | 100-91 | 90-81 | 80-71 |
---
70. One Of The Freshman Cornerbacks Surprising Like Denzel Burke Did Last Year
Denzel Burke did something very rare last year by starting at cornerback for the Buckeyes as a true freshman. But now that we know it can happen, we can't help but start looking for it to happen again, and so our gaze now falls upon freshmen Jyaire Brown and Ryan Turner. Unfortunately for Turner, he has been banged up a bit and unable to really get going in fall camp. Fortunately for Brown, he has been healthy and seemingly everybody else has been dinged up, which has led to him receiving a ton of reps against some of the best receivers in the nation. And he has responded. Brown may not need to start opening day for the Buckeyes, but he's a lot closer to being game-ready than the coaches probably expected him to be back in June.
69. Marvin Harrison Doing Marvin Harrison Things
I've got a sneaking suspicion that Marvin Harrison, Jr. isn't just a red-zone threat. After catching three touchdowns in the Rose Bowl last season it's natural to expect more of those kind of games. And while it was impressive, I'm not going to be distracted by it and make the same kind of mistake that Buddy Ryan did with Cris Carter and say that all Marvin Harrison does is catch touchdowns. He does more than that, and this year we're going to get a good, long look at everything else that that entails. (But also don't be surprised when he catches a whole lot of touchdowns.) (Like a lot.)
68. Veteran Offensive Linemen Solidifying The Line
You might not appreciate it at the time, but there is something to enjoy in the knowledge that there are veteran offensive linemen in the two-deep that can step in if somebody gets hurt. The Buckeyes have had a nice insurance policy the last couple of years with Matt Jones, but he is now in the starting lineup and the Buckeyes' new insurance agent Justin Frye is trying to find a couple of policies that might fit Ohio State's budget and living situation. Fourth-year junior Enokk Vimahi and third-year sophomore Josh Fryar are grizzled now and can provide the necessary insurance for an OSU offensive line that can't afford to let a weak link undo the entire chain.

67. Playing At Penn State During The Day
Have you ever wondered what it's like to watch Ohio State play at Penn State during the day? With the sun still shining brightly in the sky? When the most blinding thing is not 100,000 white shirts reflecting the stadium lights directly into your rods and cones? You might actually get to find out this year. Now, I can't guarantee the sun will actually be shining in Pennsylvania in late October, but I can pretty much guarantee it will be shining more than it normally does when these two teams play at night. Penn State has announced their White Out game this year and it's not the Buckeyes, which means Ohio State vs. Penn State is likely going to be a day game. This is a bit of a letdown for Nittany Lion fans right now but by the time the game rolls around they should be fired back up. Unless, of course, the Lions are 4-3 on the season at that point and Beaver Stadium has been turned into a Spirit Halloween.
66. Ohio State's Nose Tackles Vs. Olu Oluwatimi
Michigan center Olu Oluwatimi was one of three Rimington Trophy finalists last year as the nation's top center. He spent the last three years at Virginia where he started 32 games. Following the 2021 season, Oluwatimi transferred to Michigan and has been entrenched in the middle of the Wolverine offensive line this offseason. Should Michigan choose to actually play at Ohio State this year, the matchup between Oluwatimi and the Buckeyes' three-headed attack at nose tackle will be fascinating to watch. Jerron Cage, Ty Hamilton, and Mike Hall will begin this season rotating, but by the time the Michigan game rolls around, the rotation generally gets a little shorter and the best need to get the most snaps. Whoever the best nose tackles are for Ohio State at that time will need to be ready for a fight on every single snap. The team that runs the ball best in this series almost always wins. If the Buckeyes want to win this one, this matchup would be a good place to start.
65. The Ohio State Secondary Contending With The Maryland Passing Game
I know you might not think much of the Maryland passing game, but they have a talented quarterback in Taulia Tagovailoa and a number of dangerous receivers, including former OSU recruiting target Rakim Jarrett. Tagovailoa finished third in the Big Ten in pass efficiency (151.06), completion percentage (69.2%), and passing yards per game (296.9) last year. The inexperienced members of the Ohio State secondary will have 10 games under their belts when they face the Terps — and they'll need it. They are also going to need some help from the pass rush in this one. Ronnie Hickman was very good as a strong safety last year, but Maryland will test him as a free safety. This may also be nickel back Tanner McCalister's toughest matchup to date.
64. Tyleik Williams Getting 30 Snaps A Game
For much of last season, the most impressive freshman defensive lineman for the Buckeyes wasn't either of their five-star defensive ends. It was instead their lowest-rated defensive line signee — Tyleik Williams. Williams finished third on the team with 6.5 tackles for loss and second with 5.0 sacks last year. And he did this while finishing 10th in number of snaps on the defensive line and 14th in number of snaps among the front seven. People clamored to see more of Williams at defensive tackle last year but his conditioning just wouldn't allow it. He also wasn't the run stopper that the staff needed him to be, which is one of the major reasons why he only played two snaps against Michigan. But now he has improved as a run stopper and he's got a lot more wind than he used to. Last year he averaged 15 snaps per game. What can he do with twice the number of snaps as a better, more experienced player? Nobody is quite sure, but everybody is interested in finding out.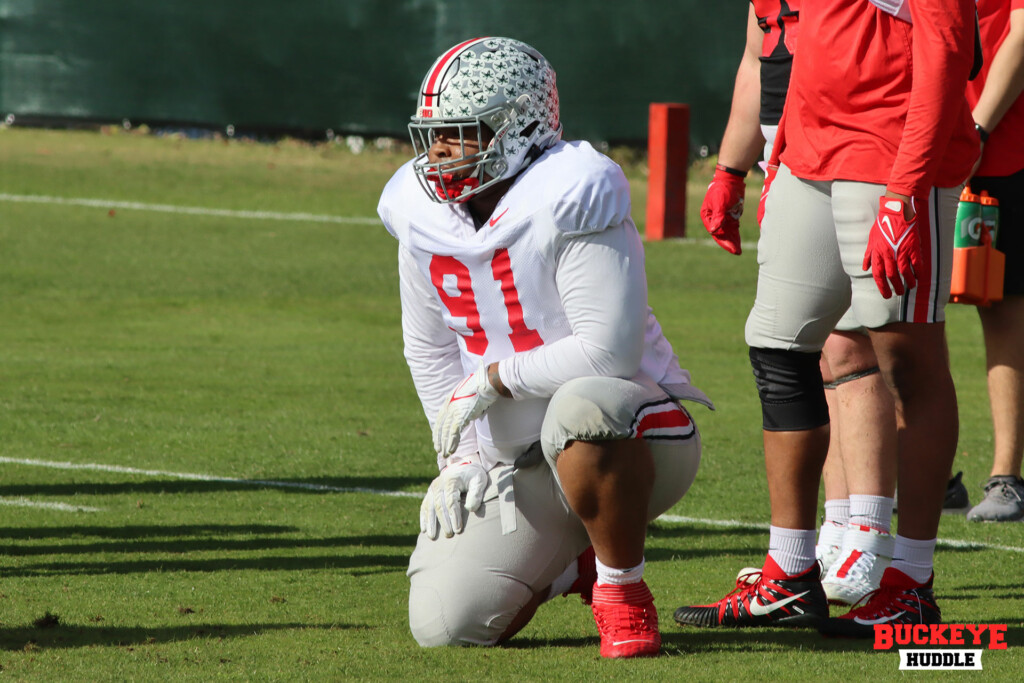 63. Seeing Where Hero Kanu Is In His Development
Freshman defensive tackle Hero Kanu is relatively new to football. He picked the game up in Germany and then went to California to play high school ball. Kanu is a natural athlete, but at 6-foot-4 and 315 pounds, can sometimes appear a bit supernatural. He is still learning the nuances of the defensive line but has the kind of size and burst that can show up out of the blue late in a blowout. Kanu may not make any big plays in any meaningful games this year, but don't be surprised when the plays that he does make catch you off guard and pique your interest regarding what he might do as a second-year player.
62. Gee Scott Down The Seam
We're all thinking it. You've taken a talented receiver like Gee Scott, Jr. and built him into a tight end. So now let's see him in the seam and down the field. Put defenses on their heels with somebody who sees safeties and linebackers as mismatches. Get him some targets and let's see how that frees up the rest of the offense. Scott has a chance to be a matchup issue for opposing defenses, and even if he doesn't get targeted, he can still put pressure on the defense down the field.
61. An Even More Boring Season For Jesse Mirco
Ohio State punted 31 times last season. It was one more punt than they kicked in 2020, which featured five fewer games. And it was just 10 more than the Buckeyes managed in the 1950 Snow Bowl loss to Michigan alone. In terms of a per game average, no Ohio State season has ever featured fewer punts than last year. Sophomore Jesse Mirco is back and has come a very long way just to punt a couple of times per game. Fortunately, he is also the Buckeyes' holder on placements, so it's not like he's completely bored. At this point, however, we should probably start calling him the team's holder instead of the team's punter since he does the former a lot more than the latter.