The Buckeyes will open fall camp on Thursday with the first of 25 practices before they head to Bloomington to take on the Indiana Hoosiers on September 2.
Like any season, there are knowns and unknowns with this Ohio State football team. Yesterday, we looked at some questions that will need answered on offense. Today, we will take a look at the unknowns on the Buckeye defense.
1. What's the plan for Sonny Styles?
Defensive coordinator Jim Knowles used the spring to put sophomore safety Sonny Styles in different situations in order to learn what he can handle. That will continue this month in fall camp. Eventually, however, the experiments must turn into a game plan. How much can Styles be used as a true deep safety? And will that dictate how much they'll use him as a Sam/Nickel? He is a versatile defender, but can he be consistent? This Ohio State defense can't keep giving up big plays like they did a year ago, so more than being versatile, Styles will first need to be trustworthy. If that happens in camp, then look out.
2. What's the plan for CJ Hicks?
It is extremely unlikely that sophomore CJ Hicks is going to unseat two-year starter Steele Chambers as the starter at the Will linebacker spot in fall camp. That doesn't mean he can't or won't get on the field, it just means Buckeye fans might want to be realistic about what's going to happen in camp. That being said, if Hicks shows he can play — which everybody expects to happen, then Jim Knowles is going to need to find ways to get him on the field. Knowles talked about wanting to give Hicks a look at the Jack position back in the spring, and fall camp will be the first time they actually put that plan into action. If Hicks performs as expected, Knowles will happily have no choice but to find room for him in some kind of rotation.
3. Is Ja'Had Carter ready to contend for a starting job?
The Buckeyes landed Ja'Had Carter out of the transfer portal, where he was a three-year starter at Syracuse. The belief at the time was that they signed him to contend for the open nickel spot, which is where he played in the spring. Unfortunately, he missed the last two weeks of spring ball with a knee injury, so he never really moved from his No. 2 spot at nickel. Carter has experience playing all three safety spots, so it will be interesting to see if he is anywhere other than the nickel this month. Smart money likely has him staying nickel to see if he can win the job with a full camp and a complete understanding of the Ohio State defense.
4. Can Cameron Martinez continue his stellar play from the spring?
Cameron Martinez will tell you himself that he had some inconsistencies last season as the Buckeyes No. 2 nickel and No. 1 dime. But the experience was invaluable, and it showed this spring when he was one of the most consistent defenders on the field. Martinez made plays in coverage as the top nickel all throughout spring camp, and he'll probably need to continue that in fall camp as well. You can't help but wonder how much he has pushed himself knowing that the Buckeyes went into the portal to help shore up a position that he plays.
5. Will Josh Proctor finally be the Buckeyes' free safety?
When Josh Proctor committed to Ohio State 2,302 days ago, he was seen as the Buckeyes' free safety of the future. Many…many…things have happened since then, including Proctor winning a starting job in fall camp each of the past two years. Injuries and inconsistencies have cost him the starting job each year, but this is the first time since he was in high school seven years ago that he's played in the same defensive system two years in a row. He was known as a ball hawk early in his career. Can he return to form this month and then carry it into the months to follow?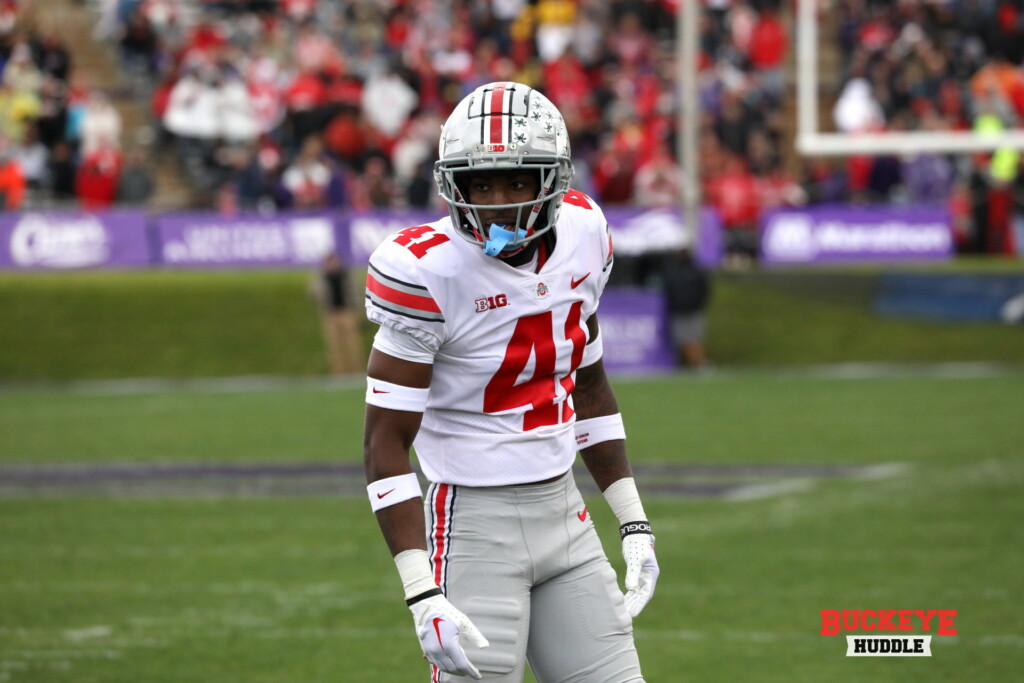 6. Can a young defensive tackle step up?
The Buckeyes have three defensive tackles they know that they can trust. Mike Hall, Ty Hamilton, and Tyleik Williams have all played and have all produced. But they need help. Ohio State signed three defensive tackles in the 2023 class., and they are all different kinds of players. Jason Moore (6-6 280) is big and tall. Will Smith, Jr. (6-3 290) is compact and relentless. Kayden McDonald (6-3 310) is big and quicker than he probably should be. Can somebody emerge in camp like Williams did as a true freshman two years ago? Is redshirt freshman Hero Kanu ready after a year of preparation? Fourth-year junior Jaden McKenzie hasn't seen much time in his career, but he's never been in a better position to earn playing time than he is right now.
7. Will JT Tuimoloau and Jack Sawyer find some help on the edge?
Junior defensive ends JT Tuimoloau and Jack Sawyer are going to command the bulk of the reps at defensive end, but they can't do it all. Sophomore Caden Curry had some moments last year as a true freshman, so expectations are high. Perhaps no reserve on the defensive line has been the subject of more talk than redshirt freshman defensive end Kenyatta Jackson, however. Defensive line coach Larry Johnson singled him out last year during bowl prep as a disruptive pass rusher. That growth has continued over the winter, spring, and summer, so there are some OSU coaches excited about what could happen this year. Omari Abor also redshirted as a true freshman last year, so this will be his first real opportunity to compete for playing time. Jim Knowles is also ready to show everybody what fourth-year junior Mitchell Melton can do at Jack. He missed the spring recovering from an ACL injury the year before, but Knowles has been touting him for over a year now, so let's see how he does in fall camp when he's healthy.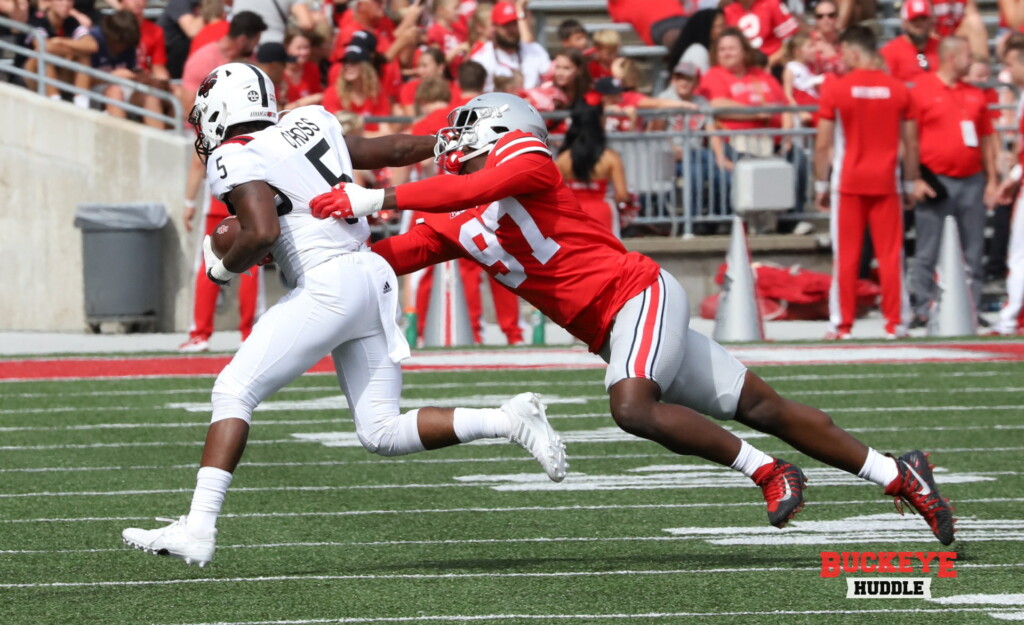 8. How many starting cornerbacks will be found?
Ohio State returns starting cornerback Denzel Burke from last year, and by every account, he has had an outstanding offseason. Expectations are extremely high for what he will do this year. Next to him is classmate Jordan Hancock, who has dealt with injuries his first two years. If he had been healthy from the outset last year, there's a good chance he would have won a starting spot. Cornerbacks coach Tim Walton is very confident in Burke and Hancock, but that didn't stop Ohio State from going into the portal and grabbing Freshman All-American Davison Igbinosun, who impressed in the spring with his length and ability to make plays on the ball. The Buckeyes may very well have three starting cornerbacks this year, but how will Walton fit them all in? Some fans have wondered if one of the three could play in the slot at nickel, but that's not something they showed in the spring. Ohio State has shown in the past that a rotation of three cornerbacks can work. First, however, they have to stay healthy.
9. Can the defensive tackles do more than flash?
When third-year defensive tackles Mike Hall and Tyleik Williams are making plays, they look like they could be the best duo in the nation. Hall wasn't healthy last year, but when he was, he was a force. Williams has been on the cusp, but now his playing time is going to ramp up. He has to be able to handle it and show this month that he is ready. Fourth-year junior Ty Hamilton will likely remain consistent, but can he take that next step that his brother Da'Von did and become a total disruptor? Together, these three tackles have the potential to be outstanding this year, but they'll need to show that consistency in camp. Head coach Ryan Day is hoping for a more streamlined rotation on the defensive line, so the tackles need to show that they are ready for the increased responsibilities.
10. How does Jim Knowles adjust in year two?
Jim Knowles was hired to be Ohio State's defensive coordinator because he was a successful defensive coordinator at other schools. He would mix in aggression and confusion to slow down quarterbacks and offensive lines, but it was never an overnight process. Last year's defense picked up on Knowles' scheme faster than any other place he had been, but it was still a learning process for everyone — especially Knowles. Now in year two, everybody has a better understanding of the task at hand. The defense is faster to the ball now because they've been in it for over a full year now. They have learned the hows and whys of the system. Knowles has also learned the hows and whys of his players, and perhaps the biggest lesson is that if there is enough aggression with the front four, the back seven doesn't need to be put in as many difficult situations. The talent is higher than Knowles has ever had, so there isn't as much of a need to compensate with scheme. So what does that look like in camp? And how will Knowles balance the want for aggression with the need for simply making an offense earn yards the hard way?