The build up for this game has been years in the making as the Buckeyes are set to host one of their biggest home openers in recent memory. The Top Five showdown kicks off at 7:30 PM on Saturday night with the Buckeyes an overwhelming 17-point favorite.
Is it going to be a blowout in the 'Shoe or will the Fighting Irish shock the nation and hand Ohio State another early season non-conference home loss? The BuckeyeHuddle.com staff weighs in….
Our staff picks are presented by our friends at STEAMBOAT DRY GOODS. Use promocode "football" at checkout for 20% off an order of $25 or more!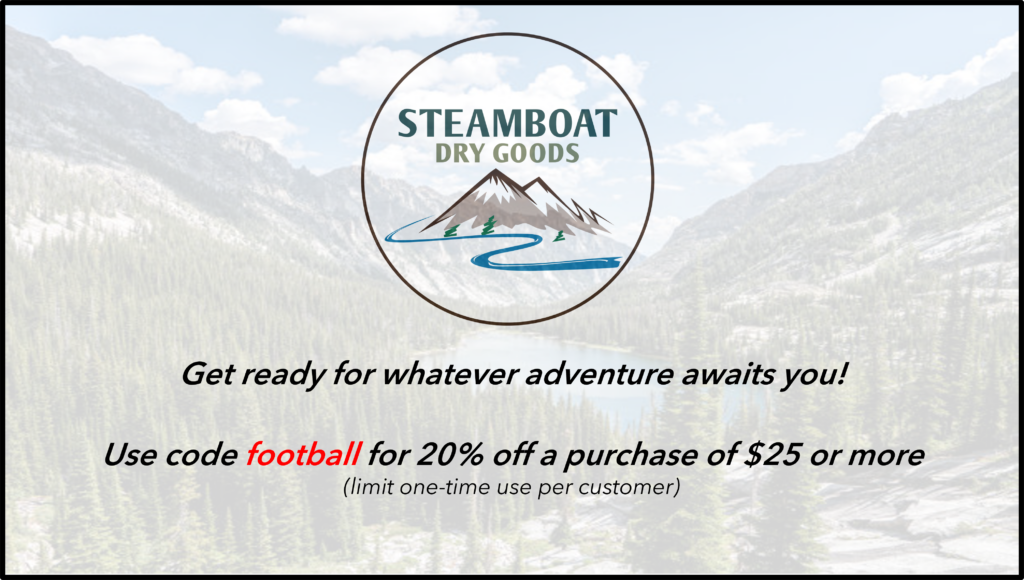 Ross Fulton
Ohio State has its biggest opening game in recent memory with a marquee matchup against Notre Dame. The Irish will likely try to control the football on offense using the quarterback run game and ball control passing. Ohio State will counter with Jim Knowles' new-look defense. Knowles has had success against the QB-run game in the past by spilling the football, changing the read points, and overlapping defenders.
On defense, Marcus Freeman operates a 3-3-5 with tite fronts and changing where the fourth and fifth rushers are coming from. The Fighting Irish will need to replace their typical hybrid nickel with a slot corner. Look for the Buckeyes to target the tite front with tite zone and outside stem routes before looking to create explosive plays. Opening games are inevitably sloppy affairs, but Ohio State should be able to create enough big plays for a comfortable win.
Ohio State 37 Notre Dame 22
Tony Gerdeman
I really can't wait to see the Jim Knowles defense unveiled. So much of the talk about this game revolves around how Ohio State's defense will handle a Notre Dame quarterback that they don't know a lot about. The much bigger question is how is that new quarterback going to handle a defense he doesn't know a lot about? I think the Irish are going to have trouble staying consistent offensively which will put them behind the chains too often to pose enough of a scoring threat in this one. Paris Johnson against Isaiah Foskey will be one to watch and Notre Dame desperately needs him to win that battle. CJ Stroud goes for over 300 yards and new Buckeye receiver stars are born.
Ohio State 35 Notre Dame 20
Marc Givler
After an off-season of talk, it's time to see if the Ohio State defense is ready to return to the ranks of college football's best.
Notre Dame tight end Michael Mayer might be the best player that the Buckeyes will face all season long. For a defense that is hoping for vastly improved play up the middle at linebacker and safety, this could be the key matchup for the game.
If Ohio State can keep him from having a monster game, I just don't see where the Fighting Irish can come up with enough points to stay with the high-powered Ohio State offense. The Notre Dame defense will do enough to keep it competitive, but too much firepower for the Ohio State offense and the Buckeyes pull away late.
Ohio State 34 Notre Dame 21
Alex Gleitman
Very exciting time as football is back and Ohio State has the marquee game of the weekend. There's lots of interesting storylines around this one with Notre Dame having a new head coach and quarterback, and Ohio State having basically a whole new defensive staff.
I think the Irish will have a stout defense but I think what they are up against is far tougher than what the Buckeyes are up against. I don't think OSU's defense will be anywhere near a finished product, but with how good their offense is and the improvement of the unit over last year, they should be in pretty good position. Contrast that with it being Marcus Freeman's first real game as a head coach, ND having a number of other new coaches, breaking in a number of new players, having injuries at multiple positions, the talent level difference overall on the roster, and being on the road, among other factors, and I am just not sure there will be enough to make this happen.
The spread is 17 and I think Vegas is begging people to take the points with Notre Dame. I can see a close-ish first half while these teams get their feet under them and feel each other out, but I think the Buckeyes pull away pretty convincingly in the second half.
Ohio State 45 Notre Dame 23
Kevin Noon
I have heard all the hype and build-up to this game, I have seen the very large line tilted in Ohio State's favor. I guess I am all-in, I think that Ohio State is the much better team, and that is not taking anything away from a top-five Notre Dame team, this is just a fact that the top-three teams in the nation truly are that much better than anyone else.
CJ Stroud will start his Heisman campaign on a high note, connecting early and often with Jaxon Smith-Njigba as Notre Dame gets into an unwanted shoot-out with the Buckeyes.
Ohio State's defense won't be 'fixed' week one but there will be enough positive there that fans will see some major steps as the Buckeyes bottle up Tyler Buchner and the Irish offense.
Ohio State 42 Notre Dame 20

Tom Orr
After nine months of waiting, the 2022 Ohio State football season is
finally here, and Saturday night, Buckeye fans are going to feel like
it was worth the wait.
The offense almost feels like a given at this point, particularly
through the air. Notre Dame has had trouble matchup up with elite
athleticism on the outside for most of the past few decades. That's a
big reason why haven't won a BCS/New Year's Six/College Football
Playoff-level game in close to 30 years. They're going to face elite
athleticism on the outside on Saturday.
On the other side of the ball, Jim Knowles and his defense have been
hyped up to the point that it may feel like a slight letdown when the
Irish pick up a first down on Saturday. But they don't need to shut
out Notre Dame. They don't need to be perfect. They just need to be
better than they were last year, and they will be.
While Notre Dame always features a solid offensive line and ground
game, the Irish simply don't have a deep or explosive enough wide
receiver unit to keep up with the Buckeyes.
Ohio State 42 Notre Dame 21
Devin Radcliff
Never been one for score predictions as I am typically terribly inaccurate. That being said, this type of game has not been kind to Ohio State over the past 20 years or so.
On paper, one would like to think Ohio State strolls to a 35-21 type victory but recent history favors the Notre Dame type team in this game. All that being said, I am going with "too close to call"
Justin Whitlatch
With Notre Dame running their dollar package where they are a little lighter in personnel, I see Ohio State having some success running the ball in outside zone and being able to control the clock this week. With an inexperienced QB, I see Ohio State being a little more aggressive in the box and playing some man to a unit that has no depth (ND WR's). Ohio State will be too much.
Ohio State 35 Notre Dame 14
STEAMBOAT DRY GOODS PICK OF THE WEEK
Each week our members will have an opportunity to win a gift set from our friends at Steamboat Dry Goods for getting the closest to picking the score of the Ohio State game.
Picks must be made in the official pick the score thread on our premium message board to be eligible for the weekly prize.
In case of a tie, there will be a tie-breaker each week. This week's tie-breaker: How many total yards of OFFENSE will Notre Dame put up against the revamped Buckeyes' defense?