Ohio State quarterback CJ Stroud has announced his decision to turn pro and enter his name into the 2023 NFL Draft. It was expected and it has been prepared for by the Buckeyes, but just because you prepare to lose the most accurate passer in school history doesn't mean it's going to happen seamlessly.
Stroud's two years as a starter featured some of the best individual performances in school history, but it also featured two losses to Michigan. For some, the latter will forever cloud the former. But to ignore the overall numbers would be foolish, especially considering he threw for 743 yards in those two Michigan games while completing two-thirds of his passes.
Stroud will leave Ohio State with a number of records, and he earned them. Under Ryan Day, the Buckeyes are always going to have productive quarterbacks, but Stroud's accuracy all over the field has never been matched in Ohio State football history.
Stroud saved his best for the postseason, where in two bowl games he completed 60-of-80 passes for 921 yards with 10 touchdowns and one interception.
The NFL is the next step for Stroud where he currently projects as a top 10 pick, but he will inevitably be torn down for silly reasons while flaws in other less-productive quarterbacks get ignored because of what might be!
The Candidates
If they don't go to the portal to add some depth, the Buckeyes will have three quarterbacks on scholarship this season. Ryan Day's preference is four, but that has become less and less achievable over the last few years.
Kyle McCord will be a rising junior who has spent the past two seasons as CJ Stroud's backup. McCord got a start against Akron as a true freshman in 2021 and threw for 319 yards on 13-of-18 passing. In his two years, he has completed 41-of-58 (70.7%) passes for 606 yards with three touchdowns and two interceptions.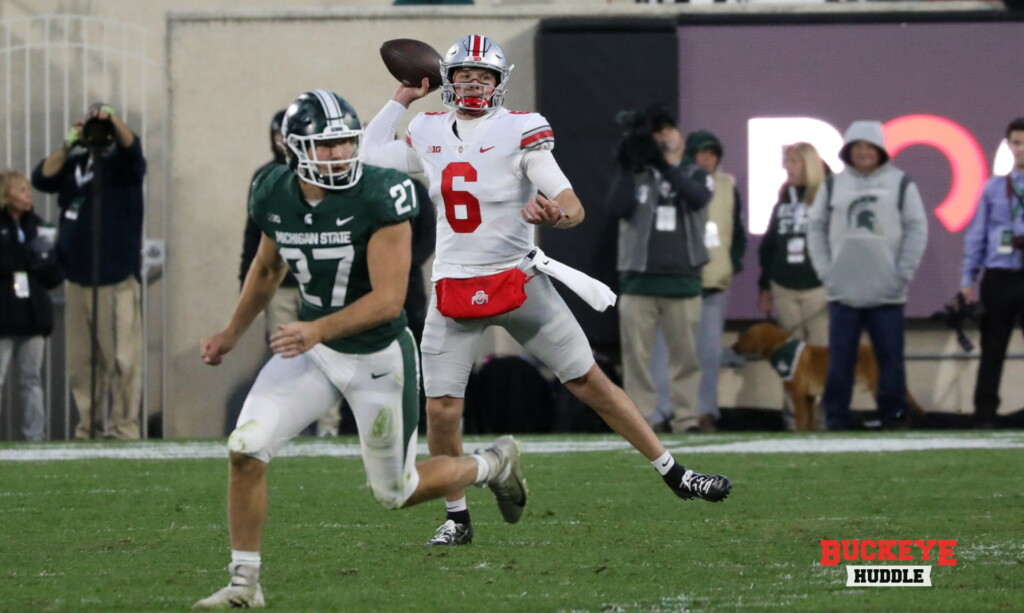 Behind him as the No. 3 quarterback this past season was true freshman Devin Brown. Brown redshirted this year, playing in two games, but didn't throw a pass. Never having thrown a collegiate pass won't eliminate him from starter contention because that was the same situation CJ Stroud found himself in as a redshirt freshman in 2021.
True freshman Lincoln Kienholz arrives in the summer. He was formerly committed to Washington but Ohio State ramped up their recruitment on him in November and eventually won out. He is a four-star prospect out of South Dakota where he was the most prolific QB in state history. Kienholz is a talented multi-sport athlete who isn't afraid of being part of a competitive room with high demands.
Spring Outlook
This is going to be a two-man race in the spring because Lincoln Kienholz isn't arriving until June. Kienholz was going to be behind Kyle McCord and Devin Brown anyway, and this will only make matters more distant.
But it will allow for all of the focus to go on McCord and Brown, where it belongs. This will be the most work Devin Brown has gotten in his career, so it could also lead to quite a bit of growth over the course of six weeks of camp. His ability to escape and keep plays alive may be a bit muted because the quarterbacks aren't allowed to be hit in practice anyway, but everything that happens behind the line of scrimmage will still matter.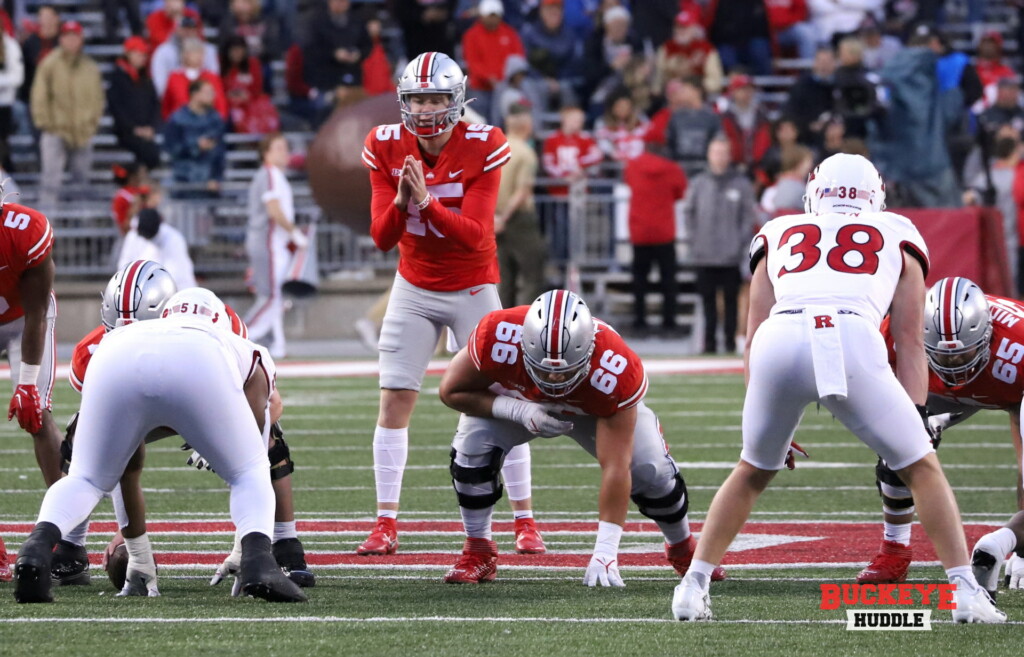 For Kyle McCord, this is going to be an opportunity for him to show everyone that this is his team now. He watched and learned from CJ Stroud, and now it's his turn to put his own spin on things. But that means more than just leadership and comportment, it also means performance. He's been in this offense for two full years and now he's going to have an opportunity to put his preparation into practice.
This is going to be the first big step towards winning the starting quarterback job for both quarterbacks. There will be pressure on both of them, which is exactly how Ryan Day wants it.

Best Bet
Say what you want about Kyle McCord enrolling early as a true freshman and "competing" against CJ Stroud and Jack Miller for the starting quarterback job in 2021, but this is McCord's first true opportunity to vie for the job. Nobody really expected a true freshman to win the job. Now as a rising junior, he will be the favorite because of his experience.
But it won't just be handed to him. Ohio State has recruited too well at the quarterback position for their to be a default winner. Devin Brown is going to push McCord in both the spring and the fall. Both quarterbacks have developed leadership traits, but McCord's experience on the field and off of it has him as the best bet heading into spring ball for the Buckeyes.
---
Previously
Replacing Tanner McCalister: Buckeyes In Search Of Shinier Nickel
Replacing Paris Johnson: Who's Left For The Buckeyes?