With spring football now in the rearview mirror for Ohio State, it's time to look back at what happened with each position group and where things currently stand for the Buckeyes. Up next will be the safeties.
[Previous: Running Backs | Defensive Ends]
Quick Position Overview
The Buckeyes are replacing two starters from last year, as free safety Ronnie Hickman and nickel safety Tanner McCalister both departed. The good news, however, is that Ohio State has four safeties with starting experience on this year's team, and that doesn't even include the duo who are likely the future of deep safety positions at Ohio State. Seniors Josh Proctor and Lathan Ransom have seen it all, as has Syracuse transfer Ja'Had Carter. Cameron Martinez spent last year backing up McCalister. Sophomore Kye Stokes impressed last spring but didn't really turn it into any meaningful snaps while the games were still in doubt. Sonny Styles found himself as part of the defensive game plan a year ago as a true freshman against Georgia, and he held his own.
Expectations Going In
The expectation going in was that defensive coordinator Jim Knowles and safeties coach Perry Eliano were going to have to find their new free safety. One school of thought had Lathan Ransom moving from strong safety last year to free safety this year. That would then free up a space for Sonny Styles as the strong safety. Cameron Martinez and Ja'Had Carter were expected to battle for the starting nickel spot. Josh Proctor's return for a sixth year would also give the coaches some options.
Reality Coming Out
Josh Proctor was inserted at free safety from the outset and he stayed with the ones throughout camp. Lathan Ransom stayed at strong safety. Cameron Martinez had a fantastic spring and left as the No. 1, but the battle at nickel will continue in the fall because Ja'Had Carter missed about half of spring with an injury. Sonny Styles made plays as the No. 2 strong safety. Kye Stokes was with the twos throughout the spring at free safety.
Any Surprises?
It's not a surprise that Cameron Martinez left spring as the No. 1 nickel because Ja'Had Carter is still learning the defense. But it was a surprise at how well Martinez played throughout camp. He got his hands on a number of passes, including a pick six during one particular practice that was open to the media. The competition isn't over yet, but if this spring was any indication, Ja'Had Carter is going to have to be at his best to win the job.

Unanswered Question
What can this safety group look like in Year Two of Jim Knowles' defense? They showed this spring that familiarity with the defense made them faster to the ball, so what will this defense look like in the fall when this scheme is now second nature?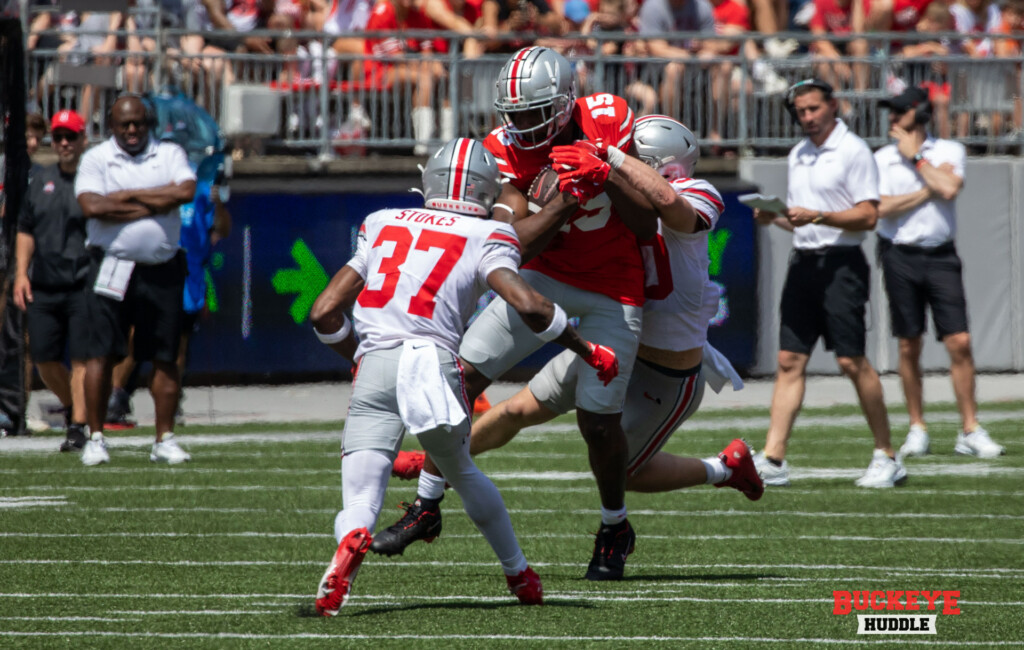 So Now What?
Sonny Styles was seen at all three levels of the defense this spring. When he wasn't playing safety, he got some time at what seemed to be a Sam linebacker position. Then there were times when he was also on the line of scrimmage setting the edge. Jim Knowles told Buckeye Huddle this spring that these 15 practices wouldn't be enough to figure out all that Styles could do, especially with as basic as they kept things. That goes out the window in fall camp and into game prep. What we saw from Sonny Styles this spring was just a glimpse, and everybody is excited to see more.
One Concern
The biggest concern here is that despite the 11 years of combined experience among Ohio State's current top three, there has yet to be an outstanding season produced by any of Josh Proctor, Lathan Ransom, or Cameron Martinez. It's not unusual for a senior season to be a player's best, and that could happen for all three of these players. But the fact that this group has had their ups and downs over the years makes a person wonder if consistency is all that likely.
Are We Sure?
Josh Proctor has been the Game One starter each of the previous two seasons, yet has failed to hold onto the job each year as well. In 2021, a broken leg ended his season almost as soon as it began. Last year, maybe that broken leg was still holding him back. Now far removed from that terrible injury, can Proctor finally live up to his lofty expectations? He was a playmaker early in his career. Can he get back to those ball-hawking ways? If so, this defense might be just what Buckeye fans have been begging for.
Quotable
"Yeah, I think when you look at the potential best 11 players for the 2023 defense, he's a guy that our staff is gonna point out and say, 'We need to find a way to get him in there.' He held his own in the semifinal, and I think he's just got all kinds of skills. So yeah, we've got to experiment with him in different places. See what's best for Sonny and our defense. But he's definitely on our mind. And he will be all spring in terms of getting him into a position that's effective for the defense." — Defensive coordinator on using the spring to find ways to experiment with Sonny Styles.
Depth Chart
Free Safety | Field Safety | "Adjuster"
41 Josh Proctor, GrSr
37 Kye Stokes, Soph
25 Malik Hartford, Fr
Strong Safety | Boundary Safety | "Bandit"
12 Lathan Ransom, Sr
6 Sonny Styles, Soph
2 Kourt Williams, rJr
Nickel Safety | Nickel Back | "Nickel"
13 Cameron Martinez, rJr
14 Ja'Had Carter, Sr
18 Jyaire Brown, Soph (Brown is still at CB as well.)
29 Ryan Turner, rFr (Turner is still at CB as well.)
Reading List
Big Spring From Sonny Styles Could Put Him In Top 11
Sonny Styles Impressed As Freshman, Ready For More In 2023
Familiarity Breeds Excitement For Ohio State Defense
Closer Look: Versatility Of Ja'Had Carter Gives Buckeyes Options
Buckeyes Notebook: Proof Of Concept, Counting Nickels, Receiver Depth Growing
Cam Martinez Gaining Confidence With Each Pass Broken Up