We spend about eight months a year looking forward to the college football season because there is always so much to see with the Ohio State Buckeyes and so many possibilities.
You have new stars taking off, old stars leaving a legacy, and transfers, transfers, transfers!
It's the best thing going, even in its current shifting-sand-like state.
For Ohio State, this could be a very special season, which means there is plenty to get excited about. Over the next week until the start of Game Week against Notre Dame, I'll be sharing 100 things for you to look forward to this year, along with the reasons why.
So let's keep going (in no particular order).
---
Previous | 100-91 | 90-81 | 80-71 | 70-61 |
---
60. Mike Hall In The Middle
One of the more popular topics of camp has been redshirt freshman nose tackle Mike Hall. He has been lauded for his ability to rush the passer, his athleticism, and the way he can push an offensive line back a bit. Larry Johnson has said he's been working with the ones and twos of late, which gives you an idea of the impact he has already made in camp. The necessity here is that he's as good at stopping the run as he is rushing the passer. That was an issue for Tyleik Williams last year, and it kept him from being an every-down player. Hall needs to be that complete player in order to play as much as he wants and as much as everybody else wants him to play as well. Regardless of how much he plays, it sure sounds like he's going to be fun to watch when he's out there this year.
59. Devin Brown Throwing Deep When He's Supposed To Be Handing Off
True freshman quarterback Devin Brown should get some action this season, but when he comes into the game he's going to be asked to hand off. But you know what? That's boring. Do you sign a five-star quarterback just to have him hand the ball off in a blowout? Don't you think Ryan Day wishes he would have had CJ Stroud throw the ball at least once in 2020? Instead, Stroud went into last year having never thrown a football in a college game and Day didn't have as much information as he would have liked. So this year you've got a similar situation. Brown is coming in as a five-star guy. Huge upside. Do you want to just have him hand the ball off? Wouldn't we all rather see Devin Brown say 'You know what, let's call an audible here,' and throw it deep to one of the young Buckeye wide receivers also looking to stand out? Let's all look forward to that. And let's be incredibly surprised if that were to ever actually happen. And then ask Ryan Day about it afterwards to see just how angry he is. But even in his anger, at least he'll have a better idea of what Devin Brown can do throwing the football.
58. Some Fullback Screens To Mitch Rossi
Mitch Rossi is a throwback for the Buckeyes as their fullback/tight end. He is a blocker, he is a leader, but he's also perhaps a weapon in the passing game. As we saw during the Rose Bowl, we know he can make some moves and he's got good hands. It's time for the Buckeyes to go back to the future. It's time to do what they used to do 25-30 years ago — it's time to get the fullback involved in the passing game! I know what you're saying. Yes, the wide receivers need to get the ball, I get that. And yes, this is also The Year of the Tight End®. But I'm suggesting it could also the year of the hybrid fullback/tight end. I don't know if I need to start a petition. Perhaps that would work. But speaking for the nation, we want to see more screens to Mitch Rossi this year.
57. A Healthy, Playmaking Josh Proctor
It wasn't long after Josh Proctor came to Ohio State in 2018 that he started to receive comparisons to recent Ohio State All-American safety Malik Hooker because of the way he was making plays in practice. He showed range, he had a bunch interceptions, and he made tackles. He was everything you wanted to see in a young safety. Five years later, here he is now in his final season at Ohio State, looking to show everyone the kind of player he can be. He was once the future in centerfielder in OSU's single-high defense. Now he's a strong safety, but he still has the range of a free safety. In camp, Proctor has shown that he can come down in run support and still has the the athleticism and range that Jim Knowles wants in his defense. After missing almost the entire season last year with a badly broken leg, Proctor is now completely healthy, and this will be the first time we really get a good look at just what he can do on the football field.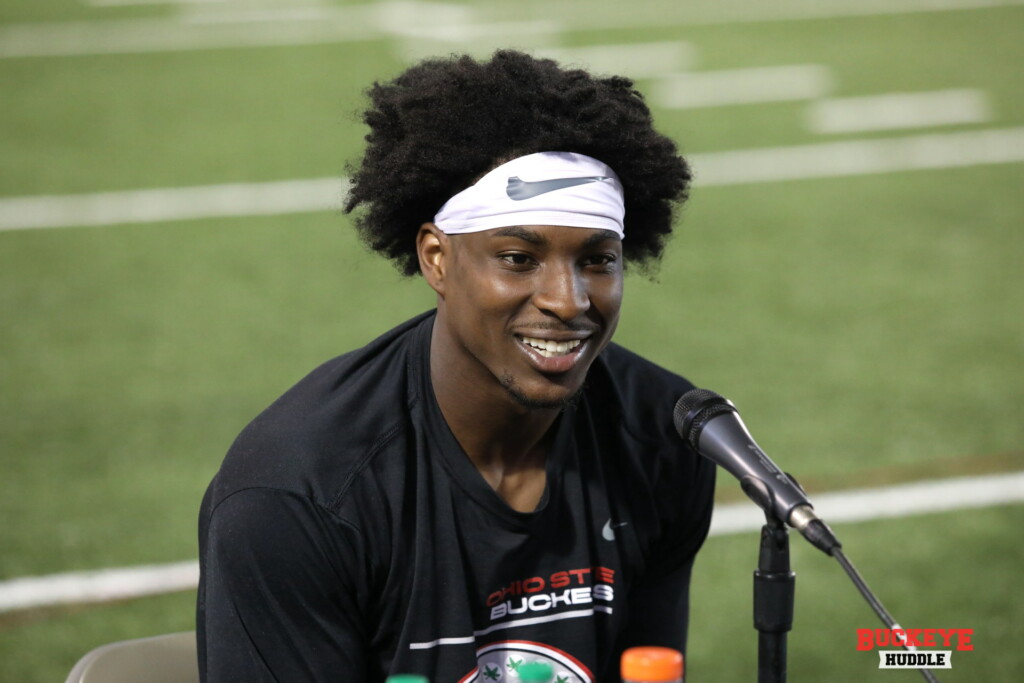 56. The Big Ten Championship Game Preview Against Wisconsin
Ohio State and Wisconsin may end up playing each other twice this season, but the game we're talking about here is the fourth game of the season in Columbus. The game is on ABC and the kickoff time has not been announced yet, but if it's not a night game I will be surprised. The Badgers will be undefeated and ranked somewhere in the Top 15. They will bring a more physical brand of football than Notre Dame, so this will be a great opportunity for everyone to find out if Ryan Day's focus on toughness and physicality has paid off. Also, Jim Knowles was recently asked if it's an advantage that he got to look at Notre Dame's offense against his defense in a bowl game last year. Well, what kind of advantage is it for him to get a look at Wisconsin in the regular season when they may just end up also seeing each other in the postseason in the Big Ten Championship Game?
55. Watching To See If A True Freshman Can Break Into The Offensive Line Two-Deep
It was pretty incredible to watch Dawand Jones emerge as a an intriguing true freshman back in 2019. He was seen as a possibility on special teams as a kick blocker, but then worked his way into the two-deep on the offensive line. It was a surprise because he was a late add to the recruiting class and he was rated much lower than most true freshman offensive linemen who end up contributing so early in their careers. So do the Buckeyes have any of those guys this year? All four of the true freshmen this year are rated higher than Jones was as a recruit, but so much depends on the depth chart and the development. All four — Tegra Tshabola, Carson Hinzman, George Fitzpatrick, and Avery Henry — are starting out as tackles because offensive line coach Justin Frye wants to see what they can handle outside. If somebody impresses, if somebody flashes, if somebody holds up against defensive ends like JT Tuimoloau, Jack Sawyer, Zach Harrison, and Tyler Friday, is there room for them? The Buckeyes already have two starting tackles and two backups, but will a freshman emerge to provide depth this year and possibly fall in line to start somewhere next year? It could be worth watching.

54. Joe Royer Continuing His Spring Game Superlatives
Redshirt sophomore tight end Joe Royer had a pretty good spring game back in April by showing some unique athleticism and ball skills. He continued that through the summer and into camp. Royer is a big target at 6-foot-5 and pushing 250 pounds or so. He has a receiver skill set but is now a year older and bigger and stronger. He can hold up at the point of attack better than he could a year ago. But how can he help this team? Can he step in and be a second pass-catching tight end in the offense? And can it be more than just a cursory addition? Like being the primary tight end in 12 personnel with Mitch Rossi, or being the second tight end with Cade Stover as the primary tight end?
53. Seeing Dallas Gant Back In Ohio Stadium
It's always interesting to follow transfers from Ohio State to other schools, especially when they end up coming back to play the Buckeyes. That happened three years ago with former Ohio State linebacker Keandre Jones, who transferred to Maryland. Following that meeting between OSU and Terps in 2019, about 20 Buckeyes surrounded Jones for a group photo. And then after the photo, Jones told them to "go win that natty." This year, the Buckeyes will be facing another former Buckeye linebacker in Dallas Gant. Gant entered the transfer portal after the third game of the season last year, apparently as frustrated with the whimsical nature of random playing time as the fans were. The Toledo native returned home to the Glass City and is suiting up for the Rockets this fall. Will there be any group photos after Toledo and Ohio State have done battle September 17th? And will Gant have a similar message for this group of Buckeyes?
52. The Ohio State Defensive Ends Against Ryan Hayes
They say whoever runs the ball best in the Ohio State-Michigan game wins the game. And while that was true last year, we also saw that a dominating pass rush can be just as effective. Defensive ends Aiden Hutchinson and David Ojabo punished the Buckeyes last year. This year you've got a batch of Ohio State defensive ends looking to make the same kind of impact for the Buckeyes. They will be taking on one of the Big Ten's best offensive lineman in Wolverine left tackle Ryan Hayes. Hayes was a Second-Team All-Big Ten selection last year and is vying for more accolades this year. It's going to be his job to keep whichever quarterback Jim Harbaugh decides to start upright. And then whichever quarterback comes off the bench will need to be kept upright as well. Hayes will need to hold up against Ohio State's relentless rotation of defensive ends. The depth could pose an issue for the Wolverines in the fourth quarter, especially if Michigan is still needing to throw the ball.
51. Paris Johnson Finally Starting At Left Tackle
Ohio State head coach Ryan Day has been waiting about four years for Paris Johnson to be his starting left tackle. And I'm guessing you have been waiting about that long as well. That wait began before Johnson was ever a Buckeye. It actually began when he was a five-star offensive line recruit. Now here we are, year three for Paris Johnson and he's about a week out from getting his first start at left tackle. He is the prototype. His teammates have talked about his "gliding feet." He has been compared to other greats in Ohio State's past who we won't mention here due to our views on being sacrilegious. But Johnson is in rarefied air when it comes to potential, and he's already been productive as a starter on the offensive line. You should be excited about seeing just how good he can be at his natural position. He's already being talked about as a top 10 NFL draft pick next year. If he ends up being that good, then this should be a pretty fun season for the Buckeyes.