With spring football now in the rearview mirror for Ohio State, it's time to look back at what happened with each position group and where things currently stand for the Buckeyes. Up next will be the defensive tackles.
[Previous: Quarterbacks | Running Backs | Receivers | Defensive Ends | Linebackers | Safeties]
Quick Position Overview
The Buckeyes aren't necessarily deep at defensive tackle right now. Nose tackles Mike Hall and Ty Hamilton combine with three tech Tyleik Williams as the only three tackles with experience. But they are all talented enough to be disruptive and all three are considered starters. Fourth-year junior Jaden McKenzie has played a limited number of snaps in his career. Redshirt freshman Hero Kanu has tons of potential but is still young in the game. True freshman Will Smith, Jr. enrolled early, and he will be joined by incoming freshmen Kayden McDonald and possibly Jason Moore this summer. (Moore could also end up at defensive end.)
Expectations Going In
The expectation going into spring was that defensive line coach Larry Johnson would try to bolster the depth at defensive tackle by seeing what Hero Kanu and Will Smith, Jr. could do. Jaden McKenzie is a known quantity at this point, but did he improve enough over the offseason to become a viable option? And while Mike Hall, Ty Hamilton, and Tyleik Williams may be veterans, they have room to grow, and it was expected that they would still command the bulk of the reps as Johnson tries to figure out exactly how he is going to deploy the interior of his defensive line.
Reality Coming Out
Unfortunately, Will Smith, Jr. dealt without injuries throughout the spring, so Larry Johnson wasn't able to get as much of a look at him as he would've liked. Hero Kanu was brought along slowly, while Tyleik Williams, Ty Hamilton, Mike Hall, and Jaden McKenzie rounded out the two-deep. McKenzie and Kanu finished the spring game pretty well, but the Buckeyes are still looking for a fourth defensive tackle to fit into their rotation.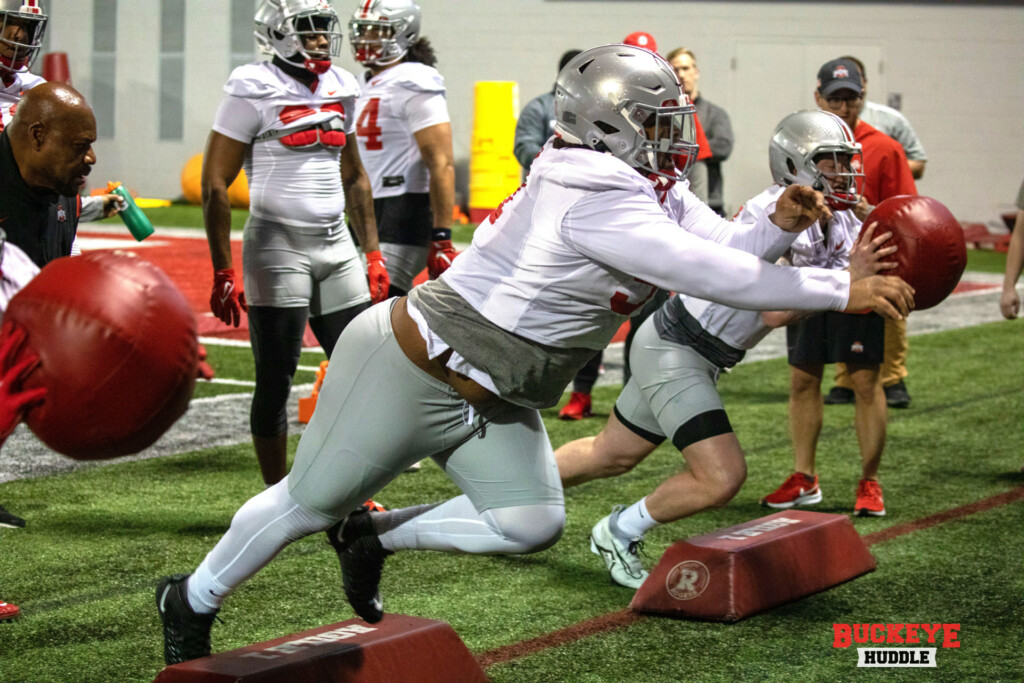 Any Surprises?
The media saw portions of several practices throughout the spring, and in just about all of those practices, Hero Kanu was running with the threes. That shouldn't have been a surprise, considering he has Ty Hamilton and Mike Hall in front of him. Even still, seeing him not with the twos during practice made it seem that he was further away right now than expected. Then watching him play in the spring game, he sure seemed to be right on pace. Based on the way he closed the spring, it's way too early to ignore him as a guy who could be in the four-man rotation this season.

Unanswered Question
If there are only going to be three viable defensive tackles in the regular rotation this year, how will Larry Johnson keep them all fresh enough to be effective in the fourth quarter (and later in the season)? Will this mean more defensive ends repping inside on passing downs? JT Tuimoloau wouldn't be a bad option. Could there by some snaps with two defensive ends, one defensive tackle, and one Jack like there were last year? Or will there even be a need to keep them fresh considering how often an Ohio State game is over in the third quarter?
So Now What?
So now the Buckeyes wait for reinforcements. Two more freshmen will arrive in the summer. Kayden McDonald (6-3 310) has the kind of quickness that will fit in with Mike Hall and Tyleik Williams, but it's always difficult to project just how quickly a true freshman defensive tackle will be able to help. Jason Moore is listed at 6-foot-6 and 260 pounds, but who knows how heavy he'll actually be when he arrives on campus. That will determine exactly where he starts out. Because of the likely need to add weight if he's going to play defensive tackle, Moore may project as a redshirt. Or he may show up at 285 pounds and be a pass-rushing specialist on the interior. That's kind of the fun of recruiting.
One Concern
The main concern here is depth, which includes health of the veterans and sheer numbers. This is a defense that has faded down the stretch, which may be one reason why Larry Johnson wants to play as many guys as possible. The problem is that he's not going to play players who can't handle the task.
Are We Sure?
Is this finally going to be the year where Mike Hall and Tyleik Williams are playing as much as two very talented defenders should? Obviously there is going to be a rotation on the interior, but can Hall stay healthy enough and Williams consistent enough for them to get the 35 snaps per game that could make Ohio State's defensive line one of the most disruptive in the nation? If they can, then the potential is even higher for a defense that should be much better than it was a year ago.
Quotable
"I just want to dominate. I feel like it is my time to step up. Our whole group needs to dominate, we need to implement the Rushmen back to where we've been." — Tyleik Williams
Depth Chart
Nose Tackle
58 Ty Hamilton, rJr OR
51 Mike Hall, rSoph
93 Hero Kanu, rFr
Three Tech
91 Tyleik Williams, Jr
90 Jaden McKenzie, rJr
53 Will Smith, Jr. Fr
Reading List
With Great Power Comes Great Responsibility For Hero Kanu
Insider Notes: Defensive line shows its teeth at Saturday scrimmage
What I Know, What I Think, What I Wonder — Spring Wrap-Up Edition