(This is the sixth in a series looking at how the Buckeyes will be replacing their departed starters in 2023. Up next is the three technique defensive tackle spot vacated by Taron Vincent.)
Taron Vincent spent five seasons at Ohio State, and still had one more year of eligibility if he wanted it. He started all 13 games at the three technique defensive tackle spot for the Buckeyes in 2022, posting 25 tackles, 2.5 tackles for loss, and 0.5 sacks. Vincent started eight games in 2021, earning Honorable Mention All-Big Ten honors after producing 23 tackles, 3.5 tackles for loss, and 0.5 sacks.
Vincent missed the 2019 season with a shoulder injury, but was a valuable reserve in both 2018 as a true freshman and 2020 as a redshirt sophomore. A five-star signee out of IMG Academy, Vincent was the top-ranked defensive tackle in the 2018 recruiting class. Whoever replaces him will need to be an effective pass rusher while also being able to hold his own against the run.
The Candidates
The "three tech" defensive tackle lines up between the guard and tackle on the interior of the defensive line. In Ohio State's defense, they like this to be a guy with pass rushing abilities
Taron Vincent's top backup in 2022 was sophomore Tyleik Williams, who was impressive at times as a true freshman the year before. In 2022, Williams produced 21 tackles, 2.5 tackles for loss, and one sack. In his two seasons as a Buckeye, Williams has posted 9.0 tackles for loss and 6.0 sacks, which is one less TFL than Vincent had in his career, and 3.5 more sacks.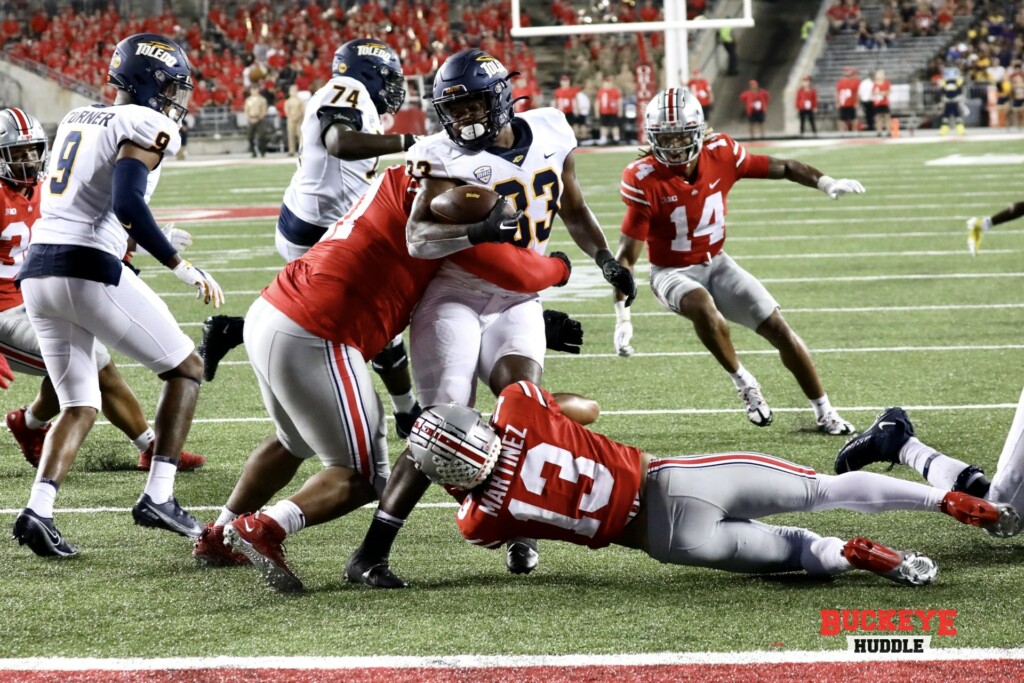 Arguably the Buckeyes' top defensive tackle in 2022 was sophomore nose tackle Mike Hall. Hall started five of Ohio State's 13 games but dealt with injuries over the second half of the season. Hall finished with 7.5 tackles for loss and tied for the team lead with 4.5 sacks. This despite not producing a single TFL or sack over the Buckeyes' final seven games.
True freshman Hero Kanu played in just three games this past season. He could end up at either defensive tackle spot, but is too athletic not to mention here. Jaden McKenzie will be in his fifth season next year. He played in five games in 2022 and has seen action in just 11 games over his first four years as a Buckeye.
Ohio State also signed three defensive tackles who could end up here in Will Smith, Jr., Jason Moore, and Kayden McDonald.
Spring Outlook
Defensive line coach Larry Johnson will cross-train his defensive tackles, so they'll be playing both nose tackle and three tech in the spring. The Buckeyes are still asking to see consistent play out of Tyleik Williams, and that won't change this spring. He no longer has an experienced veteran in front of him, so now is his time to show what he can do rep after rep.
Mike Hall spent last season at nose tackle for the Buckeyes. He and fellow nose tackle Ty Hamilton enter 2023 as the two most consistent returning defensive tackles on the roster. As such, it might be a good idea to separate the two of them and move Hall to three tech where his explosive pass rushing can be put to better use.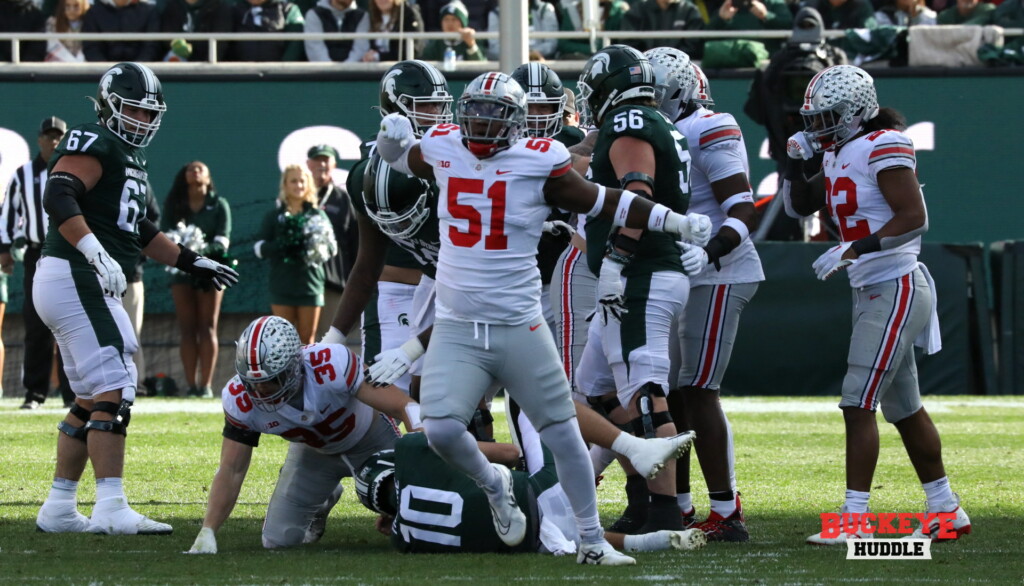 Hall moving at this point is only speculation, but pairing him with Tyleik Williams at three tech would give the Buckeyes a one-two punch that could be unrivaled in the Big Ten. Over the second half of the year, however, they were generally brought in together on passing downs, so there may be more value having them together than separating them.
There is still some mystery as to which defensive tackles will be playing where, but just about everyone on campus will get an opportunity. Will Smith, Jr. will be the only freshman defensive lineman taking part in spring ball.

Best Bet
If there is no move of Mike Hall from nose, the Buckeyes are looking at Tyleik Williams, Jaden McKenzie, Hero Kanu, and maybe a true freshman or two at three technique. Hall and Williams have experience playing both spots, and it is probably too early to expect any of the true freshmen to be in the two-deep just yet.
Perhaps Hall stays at nose and Kanu joins Williams at three tech. Larry Johnson still has some figuring to do based on how things go this spring. Expect a top four of Hall, Hamilton, Williams, and Kanu, provided Kanu makes the jump that everybody expects. Where those four ultimately line up is anybody's guess at this point.
---
Previously
Replacing Tanner McCalister: Buckeyes In Search Of Shinier Nickel
Replacing Paris Johnson: Who's Left For The Buckeyes?
Replacing CJ Stroud: Kyle McCord, Devin Brown Next Up For Buckeyes
Replacing Cam Brown: Buckeyes Must Turn Corner In Secondary
Replacing Ronnie Hickman: Buckeyes Must Adjust Safety Situation