With spring football now in the rearview mirror for Ohio State, it's time to look back at what happened with each position group and where things currently stand for the Buckeyes. Up next will be the cornerbacks.
[Previous: Quarterbacks | Running Backs | Receivers | Tight Ends | Defensive Tackles | Defensive Ends | Linebackers | Safeties]
Quick Position Overview
The Buckeyes have four cornerbacks with starting experience on the roster. Junior Denzel Burke is preparing for his third year as a starter. Junior Jordan Hancock and sophomore Jyaire Brown each started one game last year. Part-time starters JK Johnson (transfer) and Cameron Brown (eligibility) are both gone. Ohio State added Ole Miss Freshman All-American Davison Igbinosun via the transfer portal. Redshirt freshman Ryan Turner played in four games last year. The Buckeyes add two blue-chip freshmen in Jermaine Mathews, Jr. and Calvin Simpson-Hunt. Mathews enrolled early.
Expectations Going In
The expectation going into spring ball for the Ohio State cornerbacks was that Jordan Hancock, Jyaire Brown, and Davison Igbinosun would get as much work as possible so that the Buckeyes could find at least one starter to pair with Denzel Burke. This was under the assumed expectation that Burke would continue to hold his spot down, despite ups and downs as a sophomore. Ryan Turner and Jermaine Mathews were also expected to get plenty of reps as they attempted to prove they could be counted on.
Reality Coming Out
Denzel Burke was one of the talks of spring ball. He certainly didn't take things easy. In fact, he may have been the most serious player on the team. Every single review of Burke's play this year was glowing. Davison Igbinosun lost his black stripe quickly and impressed his teammates immediately. Jordan Hancock was one of defensive coordinator Jim Knowles' most productive students on and off the field. Jyaire Brown split time between cornerback and nickel. Most importantly, everybody stayed healthy, which is what really held this group back a year ago.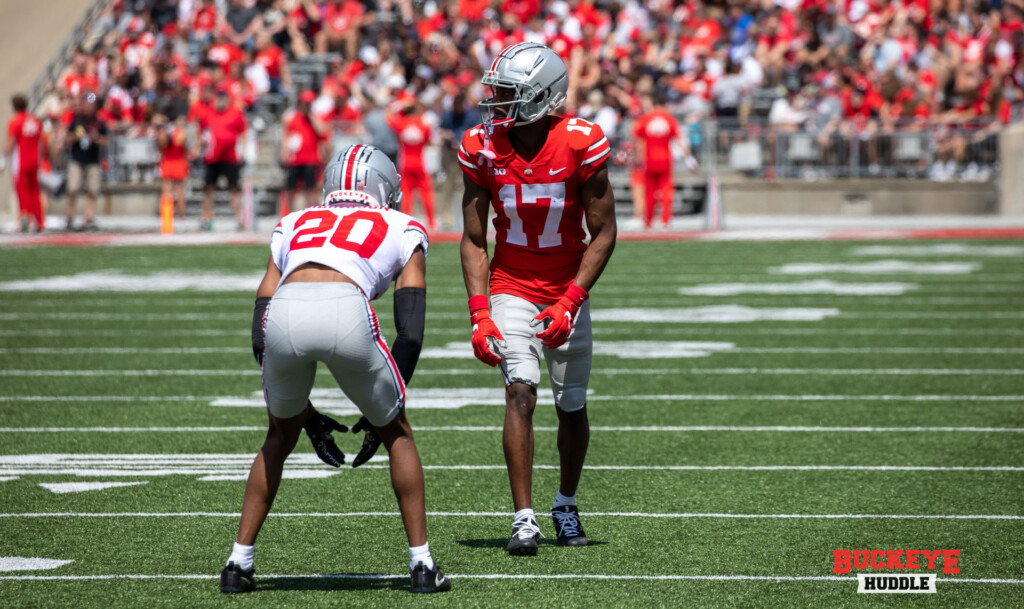 Any Surprises?
Even though Davison Igbinosun was a Freshman All-American and starter as a true freshman last year at Ole Miss, it was still surprising that he came in and performed as well as he did in the spring. Igbinosun is a long, tall (6-2) corner and was draping himself on receivers during camp. He showed good speed and ability to trigger. Last year was a year spent learning. This spring, he put all of his knowledge on display.

Unanswered Question
It sure seemed like the Buckeyes finished up spring with at least three guys who could be worthy of starting, so does that mean there will be a rotation this season? Based on how they played this spring, it's hard to imagine one of Jordan Hancock or Davison Igbinosun receiving mop-up snaps at the end of games. And it's not like Jyaire Brown played poorly, so don't forget about him either.
So Now What?
The Buckeyes will add one more cornerback to the picture this summer when freshman Calvin Simpson-Hunt enrolls. Out of Waxahachie, Texas, Simpson-Hunt was ranked the No. 8 cornerback in the 2023 recruiting class. He pairs with Jermaine Mathews, Jr. to form one of the best freshman cornerback duos in the nation. Simpson-Hunt will have some catching up to do. If everything goes as planned, the Buckeyes won't need to call on him for emergency snaps this season.
One Concern
Injuries will remain a concern until they aren't. The position was so banged up last year that five different cornerbacks started games for the Buckeyes. Jordan Hancock has dealt with injuries in each of his first two years, while Denzel Burke was dinged up throughout the season as well. Davison Igbinosun played in every game last year for Ole Miss, so there is hope.
Are We Sure?
Are we sure Jyaire Brown isn't in line for a pretty unique role in this defense? He was moonlighting between corner and nickel this spring. What happens if he continues to excel at both? Can he push for a starting spot as the Buckeyes' nickel? Can he become the No. 1 dime? The fact that he was moved around signifies that he is behind the top three cornerbacks, but also signals that they'd like to find him a way to get him on the field more often than just as the No. 4 cornerback.
Quotable
"Me, I feel like going into this year, it's a personal year for me. I want to prove all the doubters wrong. And I want to go out there and do what I know I can do. Just put a lot of great stuff on tape and play hard for my team." — Denzel Burke.
Depth Chart
10 Denzel Burke, Jr
7 Jordan Hancock, Jr OR
20 Davison Igbinosun, Soph
18 Jyaire Brown, Soph
29 Ryan Turner, rFr
24 Jermaine Mathews, Fr
Reading List
Closer Look: Davison Igbinosun Brings OSU Experience, Options
Expect Open Cornerback Competition In Spring For Buckeyes
Transfer Portal Additions Should Bolster Buckeyes Secondary
Davison Igbinosun Finally Where He Always Wanted To Be
What I Know, What I Think, What I Wonder — Spring Wrap-Up Edition
'Dialed In' Denzel Burke Putting Lessons To Good Use For 2023
Buckeyes Love Competitive Nature Of Freshman Corner Jermaine Mathews